Horne Janitorial provides the most thorough commercial and residential cleaning service in the Jacksonville area. Our dedicated team of cleaning specialists have over 20 years of combined experience in the industry. Choose Horne Janitorial for a sparkling and thorough clean that will be sure to please even the most discerning person.
Commercial
We specialize in cleaning warehouses to help you meet OSHA and EPA regulations. Cleaning services are provided throughout northeast Florida and Southeast Georgia including:
Jacksonville, FL
Gainesville, FL
Orlando, FL
Atlanta, GA
Residential
When you need specialized cleaning that typical residential cleaners don't provide, such as maintenance on your Terrazo or Marble floors, call the professionals at Horne Janitorial. We specialize in unmatched professional restoration and maintenance in homes throughout northeast Florida and southeast Georgia.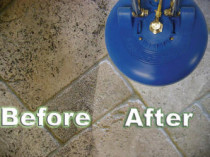 Floor Restoration
Make your floors look brand new with a complete Horne Janitorial floor restoration. We will thoroughly clean your floors with the best floor care products available on the market today. We also provide complete stripping and re-waxing when needed.
Floor Maintenance
By maintaining your waxed floors, you can avoid having to completely strip and re-wax them. Hire Horne Janitorial to provide a monthly buffing with our high-speed propane buffer, and your finish will remain looking great for a long time at a fraction of the cost of stripping and re-buffing.
Professional Cleaners
Our cleaners are hired after successful background checks, and are fully trained and easily recognizable by their Horne Janitorial uniforms.